This was the bean last week, I really think they could have found a different fruit for week 10!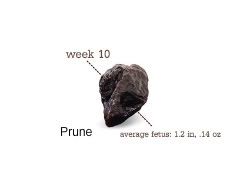 Now, in another amazing growth spurt, here is the bean in week 11 (holy moly, I made it to week 11!)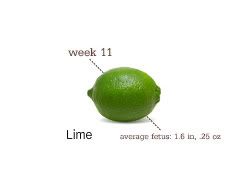 I have a "dating" ultrasound next Tuesday, the 11th. I will be about 12w1d. My 13th week, and thus my second trimester, actually starts on the following Monday April 27th, and you are then free to tell whomever you wish that we are, in fact, with bean! Thank you for being so supportive over these early weeks, we certainly appreciate it!!!
On a side note, my all-day-long sickness has finally begun to let up (thank the stars!) I still have a lot of fatigue and am still not being able to stomach most veggies and any kind of red spaghetti sauce. But not feeling nauseous all the time is just the bees knees!