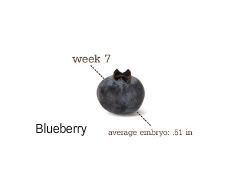 Well, welcome to our blog, we've officially got a bean and since family and friends are spread across the country, we still wanted to share this with you. Also, I'm not so much of journalist, so I figure this is a great way for us to remember all those little moments as well.
So, how did it all begin? Well, I'm confident you all know how that works, but when did we find out? We found out on December 22nd...in a motel in Vermont (sounds sleazier than it is - we were trapped in a snow storm on the way to New Hampshire for Christmas). I promised not to test until I was far enough along the test could possibly come up positive...and it did! Ben awoke to a pregnancy test being waived in his face - he too was over the moon!
The past 5 weeks have passed easily, I really can't complain! I felt faint a couple of times in week 5 and a couple of twinges of nausea in weeks 3 and 4. Now I'm experiencing the very *weird* pregnancy symptoms - sinus headaches, I'm
completely
unable to control my temperature, and am hungry ALL THE TIME. I also get sleepy, not so much where I actually want to go to sleep, but sleepy none the less. I have also had a couple of hormonal patches - boy are those fun! (not). To give you an accurate picture, last week I was on the couch with two sweaters on, socks, two blankets sitting there telling Ben that I was grumpy and near tears - why? For no reason. Ahhhh hormones! As Ben says, I can identify (usually) when my hormones are going wackadoodle...unfortunately, I can't do a thing about it!
We had our first appointment with our midwife, Jen, last Thursday. She's wonderful, very down to earth and nice, with a more holistic focus, which, as a social worker, I'm all about! I go in for my first "real" appointment next Thursday the 22nd and will go through the standard tests and exam. She said we should hear the heart beat at about 12 weeks, which is exciting.
I am now spending a lot of time resting and wearing stretchy pants. Unfortunately, since my job is business-casual, stretchy pants are out of the question. I've taken to safety-pinning my pants closed and wearing long shirts! (I'm not sure how long this will last!!!)
OK, I think that's enough for my first post - and as a disclaimer, I've never done this before so cut me some slack (and I have hormones raging too, remember!)